As a business owner, you know that content is key. It's one of the best ways to attract new customers and keep old ones returning for more.
But creating high-quality content at scale can be difficult, especially if you're not a natural writer. That's where copy-generation tools come in. These tools use artificial intelligence (AI) to help you create great content quickly and easily.
In this article, we will compare the 8 best AI copy-generation tools on the market. Then, we'll discuss their features, pricing, and pros and cons to help you decide which is right for you.
Ready to get started? Let's go!
What is "AI writing" exactly?
Copy generation tools use natural language processing (NLP) to help you write better content. NLP is a branch of AI that deals with understanding and generating human-like text.
These tools are powered by GPT-3, the latest and greatest in AI technology. GPT-3 is a neural network trained on a large corpus of text. This allows it to generate human-like text nearly indistinguishable from the real thing.
In other words, these tools can help you write like a pro – even if you're not one!
Why use an AI copywriter?
There are several reasons you should use an AI copywriter. Here are just a few:
You want to create high-quality content quickly and easily.
You want to save time on the writing process.
You want help with brainstorming ideas or generating new content.
You're not a natural writer, and you need some help.
Your team only has time to write some of the content you need. You want to create content in multiple languages.
How do AI copywriters work?
AI copywriters work by taking your input and turning it into human-like text. This text is usually indistinguishable from the real thing – even to experienced writers! To use an AI copywriter, type or paste your text into the tool, and it will do the rest.
Some AI copywriters will help you brainstorm ideas, generate new content, or translate your text into multiple languages. All you have to do is ask!
Wait, will AI content-generation tools replace real writers?
AI copywriters are meant to supplement your team, not replace it. They're great for generating high-quality content but can only do some things. You still need a qualified writer to screen content, make final edits, and hit publish.
Think of AI copywriters as your first line of defense against bad content. They can help you create great content quickly and easily, but they're not a replacement for a human writer. You might also find that they still need help picking up on subtle nuances in your writing.
Google has also stated in their webmaster guidelines that automatically generated content is a no-go without human review:
What to look for in good content generation software
When you're looking for content generation software, there are a few key features to look for. Here are the most important ones:
What's the backend model? There's OpenAI's GPT-3, Cohere, and AI21. GPT-3 is the latest and greatest and is the most expensive. Cohere and AI21 may be better for specific use cases — it's relatively cheap to trial each, so try them out!
Fine-tuning available? You want to be able to fine-tune the software to your specific needs. This might include adding industry-specific vocabulary, changing the writing style, or adjusting the tone.
Price ($/char or $/token, for example). This is important because some providers charge per character, while others charge per token (a word or phrase). The pricing can vary widely, so comparing options and evaluating your content production needs is important before you commit.
The number of users/subscribers (scale of business). Some content generation software is only available to enterprise customers, while others are open to anyone. If you're a small business or an individual, you'll want to ensure the software you're considering is a good fit for your needs.
Available integrations. You'll need to look at your workflow and figure out what integration you need. For example, a website-only solution might be enough if you need to generate content for your website. But if you want to generate and publish content directly from your CMS, you'll need something with more robust integrations like WordPress, Drupal, and Joomla.
Security options. If you're handling sensitive data, you'll want to ensure the content generation software you choose has security features such as data retention options, security audits/certifications, and adherence to the latest security practices.
The following are the eight best AI copywriting tools to boost your production:
1. Jasper.ai
Formerly known as Jarvis, Jasper was founded on January 11, 2021, by Dave Rogenmoser and John Philip Morgan. They are located in Austin, Texas, and help generate content in the form of copy, blog posts, landing pages, and email subject lines.
More than 70,000 marketers trust Jasper at companies including Google, Airbnb, Autodesk, HarperCollins, and IBM.
Pricing
Jasper offers three plans:
Starter. The plan is mainly used for short-form content. It costs $29/month when billed monthly and $24/month annually.
Boss mode. The plan is used for detailed articles and copy, costing $59/month and $49/month when billed annually.
Business plan. As the name suggests, the plan is mostly used by agencies and teams that want to create large content. In addition, it has a customized price plan.
Pros
Wide array of templates for different copywriting needs (e.g., google headlines, website landing page, blog post paragraphs).
AI art generator to complement written content
Available browser extension
Intuitive interface
Cons
Need help with writing technical topics.
You would still need to do your research.
Junk content is still charged.
Does not provide sources for you.
2. Copy.ai
Copy.ai was founded in 2020 by Paul Yacouban. The tool has its headquarters in Memphis, Tennessee.
Copy AI helps you turbocharge your creativity to generate content. They mostly help marketing agencies, business owners, social media managers, and startup teams generate content in a flash by generating results in a fraction of the time.
The tool mostly helps create social media content or short-form content.
Pricing
The plan is distributed across three tiers:
The free plan ($0/month)
Pro plan ($35/month)
Team plan (custom price)
Pros
More than 90 copy templates.
Google Chrome extension.
Cost-effective plans.
Multilingual.
Cons
Not ideal for long-form content.
No third-party integrations.
Lags when generating more results.
3. Copysmith AI

The tool was founded by Jasmine Wang, a content marketing expert, in 2020.
It's mostly used for content rewriting, product descriptions, ideas, and blog posts. The tool is best for marketing agencies, in-house teams, freelancers, and eCommerce owners that need to generate content fast.
Pricing
They have three price plans set up depending on a client's needs:
Starter– The plan is mostly for newbies and costs $19/month.
Professional– Mostly used by growing teams to take their copy to the next level. It costs $59/month.
Enterprise- This plan is mostly used by businesses requiring unlimited content and a customized price.
Pros
Constant updates.
Endless content ideas.
FAQ template.
Optimized content for SEO.
Cons
Various bugs within the software.
Users require more editing.
Not good for long-form content.
4. Peppertype AI
The instant content vending machine was founded by Rishabh Shekhar in 2020 and is located in India.
Their artificial intelligence engine has been trained with 100k+ content to understand what would work best for your audience.
The tool is great for articles, blog posts, landing page content, ad copies, video scripts, and audio scripts.
Pricing
Peppertype has only two price plans.
Personal plan. This plan is mostly for individuals, freelancers, small teams, and entrepreneurs. The plan will cost you $35/month for one user seat, and you will be billed $420 yearly.
Team plan. The plan is mostly used by professionals, marketing teams, agencies, and startups. For five user seats, you will pay $40/month; when billed yearly, the price will be $2400.
Pros
A clean dashboard that allows you to view the analytics of the team.
Great customer service.
The company is responsive to customer feedback.
Cons
Typos and errors on some of the content generated.
User-friendly only to tech-savvy people.
Bugs and errors when using other languages that are not English
5. Anyword

The tool was founded by Yanir Makeover in 2013 and had its headquarters in New York.
It enables marketers to tailor their message to their ideal audience through ad copies, social posts, and landing pages.
What makes the tool stand out is its predictive model. Its predictive performance score and A/B testing allow clients to see how using different keywords affect sales.
Pricing
Free plan. The plan gives the user up to 1000 words to test all features.
Basic. This plan is available at $24/ month and offers between 20,000 words to 300,000.
Data-driven. The top tier plan is billed at $83/ month when billed annually and offers unlimited word count.
Pros
Great tool for creating CTAs.
Advanced AI language.
Generates excellent content based on keywords given.
Improves the content you already have to make it more appealing.
Cons
Expensive
Does not offer a direct WordPress connection.
It might generate long copies for short descriptions.
6. ClosersCopy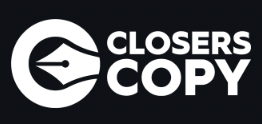 The tool was founded by a renowned copywriter, Nico Engler, who wanted to help businesses write compelling copies quickly. Its AI technology issues you with unique and highly engaging content similar to one written by a human.
Pricing
Power. The cheapest plan will cost you $49.99/month. You will have two seats available (you plus another member).
Superpower. The mid-tier plan costs $79.99/month. Three seats will be available for you, plus two other team members.
Superpower squad. The top-tier plan will cost you $99.99/month. Five seats will be made available for you and four other team members.
Pros
Easy to use.
Intuitive editor and UI.
Suitable for different niches.
Inexpensive.
Cons
No external SEO tool integration.
Lacks grammar and plagiarism tools.
Bugs in content generation.
7. Writesonic
The tool was founded in 2020 by Samanyou Garg to assist entrepreneurs in creating high-converting landing pages quickly.
In 2021, Writesonic launched AI blog writer, which became the tool's most popular feature. The tool is mostly used to generate landing pages, blogs, Facebook ads, Quora answers, and product descriptions.
Pricing
Free plan. The plan promises you up to 2500 words of free content monthly.
Short-form. The plan starts at 12000 words of premium quality at $10/month for one user.
Long-form. The plan starts at 19000 words of premium quality at $13/month for one user.
Pros
The tool offers a broad variety of content.
Responsive support team.
Numerous help articles are on their website.
Cons
Editing is needed for generated blogs.
A limited number of users per account.
You have to use credits for each article iteration.
8. ChatGPT [New!]
ChatGPT is a product released by OpenAI in December 2022. It is an improved version of GPT-3, the language model that powers many of the products described above.
Unlike GPT-3, ChatGPT allows users to generate copy simply by chatting with it (hence the name). Previously, users had to create a prompt to prime the language model to generate desired output (though InstructGPT, a predecessor to ChatGPT, allowed users to simply provide instructions for some use cases).
Pricing
For now, ChatGPT is free! However, it is expensive to run and the product is in research preview, so expect OpenAI or Microsoft Azure (the platform ChatGPT appears to be running on) to charge for its use in the future.
Pros
The most intuitive interface.
State-of-the-art model (most if not all of the previous products use GPT-3 as their backend).
Free! (for now)
Cons
Does not provide tools around the content management process.
Can be more restrictive of outputs due to safety concerns
Will charge in the future.
Hot tip: AI writing tools can go beyond writing marketing content
While all these tools can not replace real writers, they can supplement their ideas and improve their content creation while boosting productivity. By generating content in seconds, these AI tools enable writers and businesses to create content much faster for their target audience.
So we've gone over the 8 best AI copywriting tools that can help boost your content marketing, but why stop there? While generating blog posts and landing page material is great, what if you could use AI to edit text (and ensure it's suitable for business communication) faster?
For enterprise use cases, Sapling.ai is an excellent choice for post-processing the outputs of copy generation systems. It sits on top of your content/CMS platform to provide real-time suggestions to help teams more efficiently edit and compose text. It also offers an API/SDK so you can add this functionality with just a few lines of code. Contact us to learn more.