Customer service is a significant part of any business. Having a dedicated team in place is important for addressing problems and providing a positive experience for potential and current customers. According to HubSpot, 68% of consumers prefer paying for products or services from a company that offers a good customer service experience and approximately 89% of people are more likely to purchase a product from a brand if they receive positive customer service before even buying anything.
Having that said, this article will walk you through different tools to help take care of the customer, as well as outline best practices that a large majority of businesses follow to ensure the best experience for their customers.
Importance of Customer Service
Customer service is one of the most important aspects of any business and since it can make or break a company, it's essential to get it right. There are many reasons why customer service is so important. Here are a few notable ones:
Improve Customer Satisfaction
Customer satisfaction is one of the most important goals for any business. Happy customers are more likely to return and recommend your business to others. There are many ways to improve customer satisfaction, but excellent customer service is the foundation.
By providing prompt, professional, and courteous service, you can create a positive experience that will keep customers coming back. When customers feel valued and appreciated, they are more likely to be loyal and provide positive word-of-mouth referrals.
Creating a Positive Brand Image
Every interaction a customer has with your business is an opportunity to create a positive impression and build brand loyalty. Even small gestures — such as sending timely follow-up emails after purchases or responding promptly to customer inquiries — can help create a lasting connection between customers and your brand. A positive brand image can lead to increased sales and higher customer retention rates, which are both key factors in business success.
Feedback Loops
Good customer service provides you with valuable feedback from your customers. This feedback loop allows you to learn what works well for your customers and what are the most common issues that they run into. This information can then be used to improve your products or services in order to meet the needs of your target audience more effectively. In other words, good customer service provides you with invaluable insights into what makes your business successful – insights that would otherwise be difficult or even impossible to obtain without this feedback loop in place.
Streamlined Workflows
Customer service plays an essential role in promoting a streamlined workflow. When customer service representatives are well-trained in decoding customer needs and responding with accuracy, efficiency, and speed, the department can provide high-quality customer experiences that form lasting relationships. This highly responsive team will work hard to reduce delays and streamline operational flows for the business. Aside from reducing transactional costs, this improvement to workflow will also allow the company to achieve a better functioning overall environment. Additionally, boosting customer service efforts results in more expertise and improved discernment regarding customers' needs and desires – allowing companies to seize future opportunities faster as well as take advantage of changing market trends earlier than their competitors. Ultimately, having an organized customer service strategy creates smoother processes between departments, resulting in increased productivity – a win-win situation with tangible benefits for businesses across the board!
Source: Salesforce
Best Tools to Improve Your Customer Service
As you know, the most important thing is to always focus on your customers' needs and deliver the best possible experience. And to make it easier, there are several tools available that are beneficial to providing better customer service.
Here are some of the top-rated customer service tools you need to know about!
Slack
Slack was introduced in 2009 and has become one of the most popular tools for improving business communication and customer service. This combination of features makes it an essential tool for customer service teams that need to be able to find information quickly without hassle.
Pros
Comes with plugins
Chains and threads make it easy to organize conversations
Cons
Notifications don't work well in the mobile version and do not allow uploading multiple files
Android and iOS versions don't allow screen sharing.
Front
Front is another top-rated customer communication platform that helps businesses manage customer interactions and communications. It also offers a range of automation features that allow users to create templates for common responses, saving time when responding to customers.
Pros
Centralized communication
Easy collaboration
Multi-channel management
Enables automation
Cons
Lacks comprehensive resources on the main website
The interface is not user-friendly
Discord
Discord is slowly emerging as a customer communication platform, helping businesses manage inquiries and paperless customer service requests. What makes Discord stand out is that it is more of a social media platform, which makes its applications so diverse.
In fact, companies these days use it to provide detailed information, keep in touch with their customers, build a community around their brand, and even provide exclusive content and deals. This is a great way to get feedback from customers and gauge interest levels.
Pros
Easy file sharing
Stable performance
Great security features
Increased scope of adding extra bots
Cons
The initial setup can be complex
Frequent file transfer limits
Salesforce
Salesforce is a customer service platform that helps organizations keep track of their customers and manage their interactions. It provides a central repository of customer information, accessible by customer service representatives (CSRs) from anywhere.
Pros
Accessible features that make it easier to provide excellent customer service
Comes with a knowledge base that stores all of your organization's customer information in one place
Provides a script builder to build custom scripts for each customer interaction
Cons
Less control over CRM upgrades and scheduled runtimes
Not a budget-friendly tool
Zendesk
Zendesk is a customer service tool that helps businesses track and resolve customer issues, measure and improve customer satisfaction. Its features make it an effective customer service tool, including a self-service knowledge base, ticketing system, live chat, and reporting tools.
Pros
Versatile and powerful
Simple UI
Supports mobile devices
Cons
Lacks customization
Costly option
LiveChat
As a customer service platform, LiveChat is quite effective. It allows customers to communicate with businesses in real-time, which can be helpful when dealing with time-sensitive issues. The platform also provides businesses with a way to track conversations and customer interactions.
Pros
Easy navigation
Ideal for handling complex problems
Cons
Scalability issues
Fails to handle multiple customers simultaneously
Service Hub (HubSpot)
Service Hub, a HubSpot CRM platform, is a suite of tools that helps businesses deliver excellent customer service. With Service Hub, businesses can provide their customers with the help they need when they need it.
Pros
Comes with a ticketing system and a community forum
Email automation and feedback surveys
Cons
Lacks automatic ticket generation for live chat option
Accommodates less data in a single page
LiveAgent
Another powerful tool, LiveAgent, helps businesses provide excellent customer service. It offers a wide range of features that allow businesses to communicate with their customers in real-time, like chatbots, co-browsing, and ticketing.
Pros
Customer support is super responsive
Easily pulls off complex functionalities
Cons
Complex user interface
Requires a learning curve
Olark
Olark is a live chat software company that enables businesses to communicate with their customers in real-time. It comes with multiple smart features, including chat transcripts, automatic chat invitations, and the ability to integrate with other applications such as CRMs, eCommerce platforms, and help desks.
Pros
Enables smooth software integration
Beginner friendly
Easy initial setup
Cons
Chat support fails when cookies are disabled
Limited functionalities
Customer Service Best Practices You Need to Follow
It's no secret that delivering great customer service is one of the best ways to ensure happy, loyal customers. But besides having the latest ticketing systems and communication platforms, what else does it take to deliver truly excellent customer service?
Here are some customer service best practices you need to follow: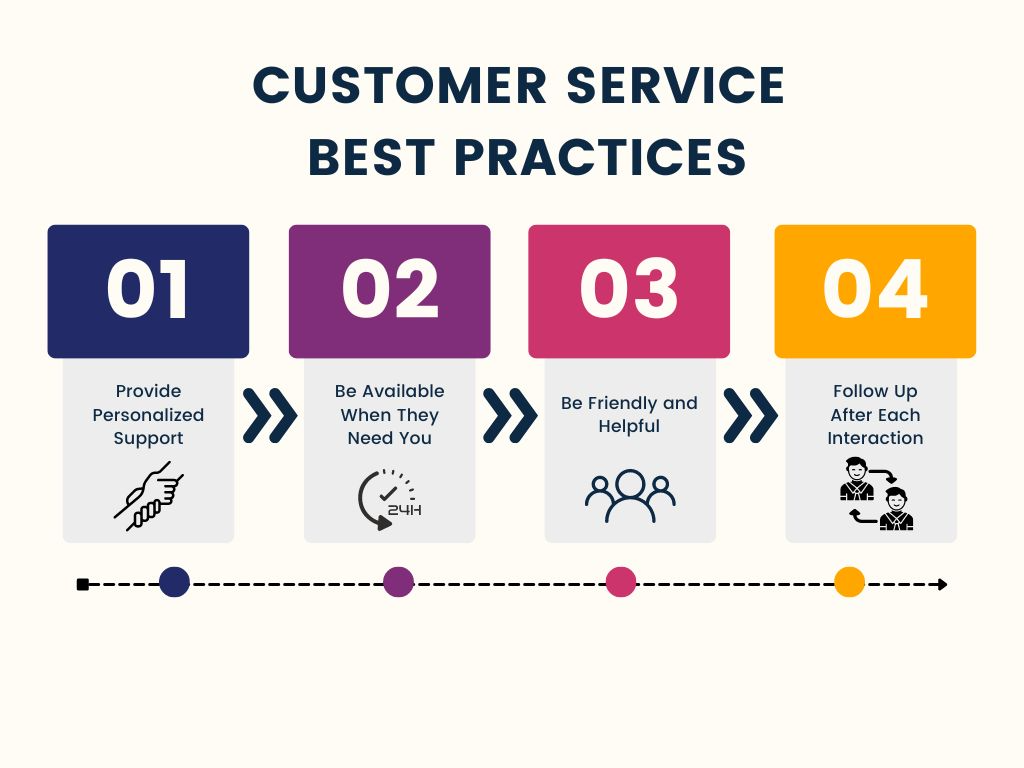 Provide Personalized Support
In order to provide personalized support, businesses need to take a few steps. First, it is necessary to understand who their customer is and what they need. This can be done through research and surveys.
Once businesses have this information, they need to create processes and systems that will allow them to deliver the personalized support that customers crave. This might include things like creating customer profiles, having a dedicated support team, or using AI-powered chatbots.
Another key aspect of providing personalized customer service is being able to cater to customers from around the world. This entails not only understanding the cultural preferences of different audiences but also being aware of content restrictions in specific locales. One way to ensure great customer service worldwide is by doing your research and using tools like a VPN. With a VPN, you're able to change your browsing location and view the same content as your foreign customers. This allows for more accurate research into what issues a customer may be facing and how they can best be addressed.
All in all, by extending personalized support to every customer, businesses can ensure they provide their customers with the best possible experience.
Be Available When They Need You
Your customers should never have to wait long for a response from you. Whether they're reaching out via phone, email, or live chat, make sure someone is there to answer their inquiry promptly.
Be Friendly and Helpful
When it comes to providing great customer service, one of the best things you can do is to be friendly and helpful. This means speaking with your customers, listening to their concerns, and offering them assistance. Being patient is also essential, as some issues can be extremely complex.
Of course, being friendly and helpful isn't always easy. There will be times when you're dealing with upset customers or difficult situations. But if you keep your cool and focus on providing a positive experience for your customer, you'll succeed in delivering great customer service.
Follow Up After Each Interaction
Make sure you follow up with each customer after every interaction, whether it's a positive or negative experience. This shows that you care about their satisfaction and want to ensure they have a good experience working with you.
Here are a few practices you can adopt:
Send a thank-you note or email after each interaction
Follow up with the customer within 24 hours of their initial contact
Keep track of customer interactions and issues in a CRM system
Respond to online reviews and feedback promptly
Add the option to rate the service that the customer just received
Final Words
There's no denying that improving customer service is essential for any business. By utilizing the best tools and practices, businesses can improve their customer service efforts to ensure that clients are getting the best experience possible.
Whether it be through automated emails, dedicated customer support staff, or frequent surveys – there are many methods for companies to tailor their customer service strategy in order to optimize experiences with customers and build trust and loyalty from them. And with a well-planned approach, businesses can create an outstanding customer experience while increasing brand value and profits at the same time.