Microsoft Word is the most popular word processing program on the planet. It's easy to use, comes with multiple add-ons and features, and is useful in both personal and professional settings.
But one of the areas where it misses the mark is its grammar checker.
What Is Wrong With The Built-in Microsoft Word Grammar Checker?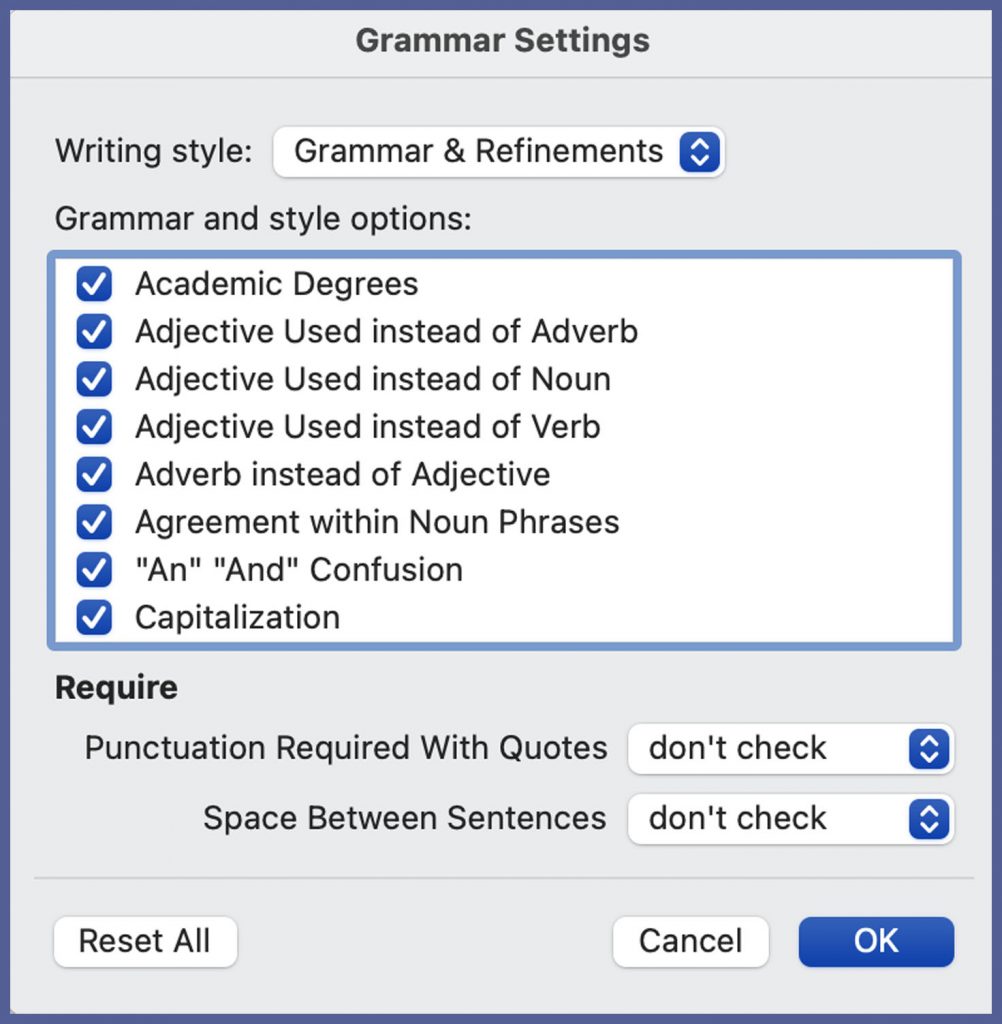 MS Word's built-in grammar checker performs its function tolerably well. It checks for spelling and grammar errors, and typically it is accurate. However, there are also lots of times when it's more annoying than helpful.
Pros:
No separate installation is required with MS Word's grammar checker.
It Checks Basic Grammar And Spelling Errors, Plus More
You can't go wrong with the basics! But MS Word doesn't stop there. It also checks for clarity, conciseness, formality, and other style elements.
Cons:
It Doesn't Look For Context Clues
One major drawback of Word's grammar checker is that it does not account for context clues when making its spelling and grammar recommendations. This means that it may tell you that you spelled a word wrong, even if you are using the correct spelling for the context of the sentence. For example, it may tell you that you misspelled the word "their" as "they're," when in fact you are purposely using the word "they're" because it is the most appropriate one for the subject matter.
Its Rule-checking Process Is Too Strict
Word's rule-checking process can be too strict. Its grammar checker is rule-based, which means it operates off an extensive list of pre-set grammar and spelling rules. This can lead to strict enforcement of those rules in areas that are unnecessary. For example, if you end a paragraph with a period and two spaces following it, Word will flag those two spaces as an error. You'll be required to "correct" this oversight before Word will acknowledge that you satisfied all its editing suggestions.
In conclusion, Word's grammar checker is not a deal breaker, but it's not the best grammar checker out there. There are MS Word add-ons you can download for free which are more flexible and will vastly improve the quality of your document (as well as your Outlook emails).
Best Grammar Checkers For Microsoft Word
1. Sapling For Word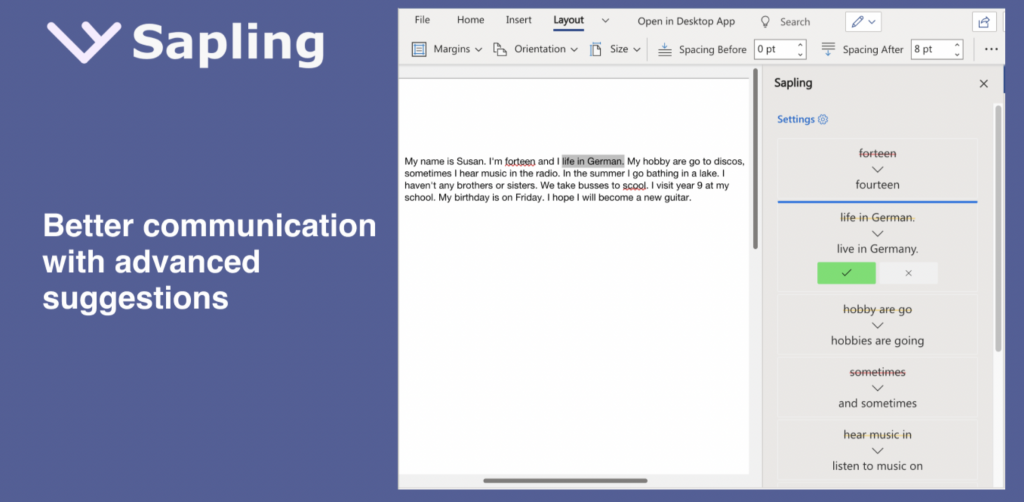 Sapling for Word is the best free MS Word grammar checker you'll find anywhere on the Microsoft AppSource. Unlike other free add-ons, Sapling doesn't skimp out or limit features just because it's free. Of course, if you try out the paid version, you'll find a broader range of grammatical and spelling suggestions. The Enterprise version for businesses is even more packed with features, such as support for custom integration and privacy. But for basic document writing needs, a painless download with no money down is the best way to make the most use out of this program.
Pros:
Unlimited Characters In Free Version
Most free versions of grammar checkers come with character limits, meaning you can only write up to a certain number of characters before the grammar checker will stop functioning. In some cases, the free software will stop working at all once it reaches a certain number. Thus, you're forced to pay for a subscription that you don't have the budget for, just to be able to use the grammar checker.
At Sapling, we don't believe in forcing you to do anything you don't want to do just to satisfy your basic grammar and spellchecking needs. That's why with Sapling, there is no limit to the number of characters you can write in a given document.
Unlimited Custom Errors And Personal Dictionary
One of Sapling's best features is that it is not rule-based. It uses neural nets trained on millions of different sentences to process text. This allows it to analyze your text based on context clues, not simply hard and fast rules (it also doesn't process two spaces following a period at the end of a paragraph as an error).
But what makes it even better is the unlimited custom errors and personal dictionary feature. For example, if your company uses specific words or titles that are not in any regular English dictionary, you can add them to your personal dictionary on Sapling. That way, when you or one of your employees is typing a document, Word won't flag entries from that dictionary as errors.
You can also customize the errors that you want Sapling to flag. For example, if you want two spaces after the period at the end of each sentence, you can program one space (or no space at all) as an error.
In the end, there's no limit to what you can produce using Sapling. It offers for more flexibility and allows everyone using it to write faster, more efficiently, and more correctly.
Supports Other Languages Besides English
Do you or any of the employees in your company, such as those based overseas, speak a language other than English? They can still use Sapling for Word. Sapling supports multiple languages, including German, Spanish, French, and Japanese. Click here for a more extensive list.
Pro Version Provides More Suggestions
If you're really serious about spelling and grammar checking, you may want to upgrade to the Pro version of Sapling. It offers more suggestions for improving your document, so that it will turn out as professional and readable as possible.
Sapling Enterprise Offers Unique Privacy Features For Businesses
Companies should consider upgrading to Sapling Enterprise for its unique privacy features. Sapling understands that SOC2, HIPAA, and PCI compliance is the ultimate priority for every reputable business, which is why when you subscribe to the Enterprise tier, you have access to the following tools: scrubbing Personal Identifiable Information (PII), no data retention, and on-premise deployments.
Sapling Enterprise Supports Custom Integration
Do you have other programs in your company that you need a grammar and spellchecker for? With Sapling Enterprise, you can easily integrate Sapling with your existing programs. This way you can keep all your programs' text processing uniform.
Cons:
Rate limit for enterprise CRMs
While the free version of Sapling is accessible to everyone, enterprise CRMs are eventually rate limited if an entire team is using it on the free version. When that happens, your company will need to upgrade to Sapling's enterprise plan. However until then, you're welcome to try out or continue using the free version of Sapling!
Learn how to install Sapling for free here.
2. Wordeep For Word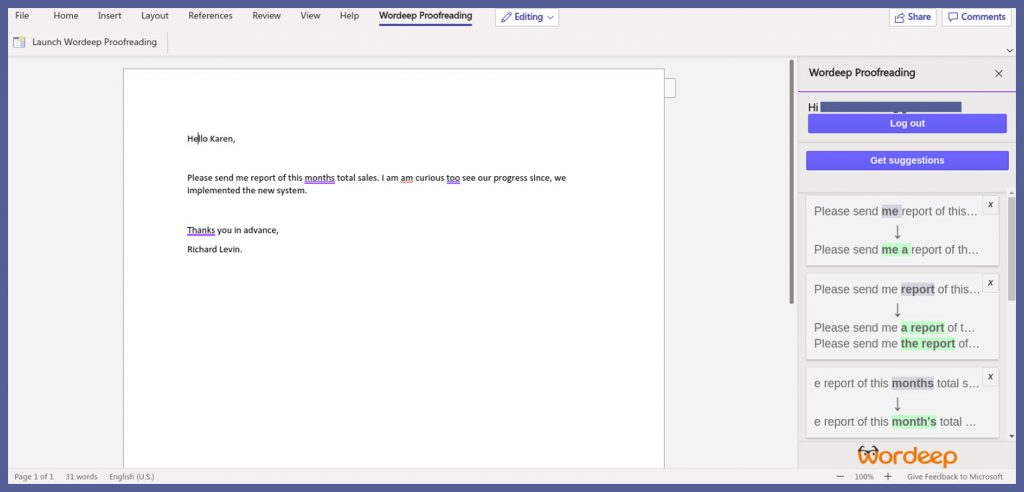 Wordeep for Microsoft Word is a free grammar checker that uses similar technology to Sapling for processing text. It is not rule-based, rather it provides editing suggestions based on the context of the written content. For this reason, it's a handy piece of software. But the free version's strict character limits downplay its usability.
Pros:
Uses Deep Learning Technology Instead Of Rules
Wordeep uses deep learning technology to provide corrections and suggestions that match the context of your sentences. This allows you to make the appropriate changes without losing sight of your subject matter or the tone you have adopted.
Provides Real-time Corrections
You don't have to wait on Wordeep to analyze your document. It provides corrections in real-time, so you can edit the text as you go. This allows you to write faster and more efficiently.
Cons:
As we mentioned earlier, the free version of Wordeep comes with some pretty strict character limits. The first time you use it, you are allowed to write up to 50,000 characters. After that, Wordeep will check only 1000 characters per use, up to a total of 80,000. After that, you're forced to upgrade to the paid version.
Only 10 Words Allowed In Personal Dictionary
The free version of Wordeep only allows you to set up 10 words in your personal dictionary.
Wordeep does not have a custom errors feature. It may prompt you to correct what it perceives as "errors", but which are actually part of your company's style guide. This delay can slow you and your employees down during the writing process.
3. Scribens For Word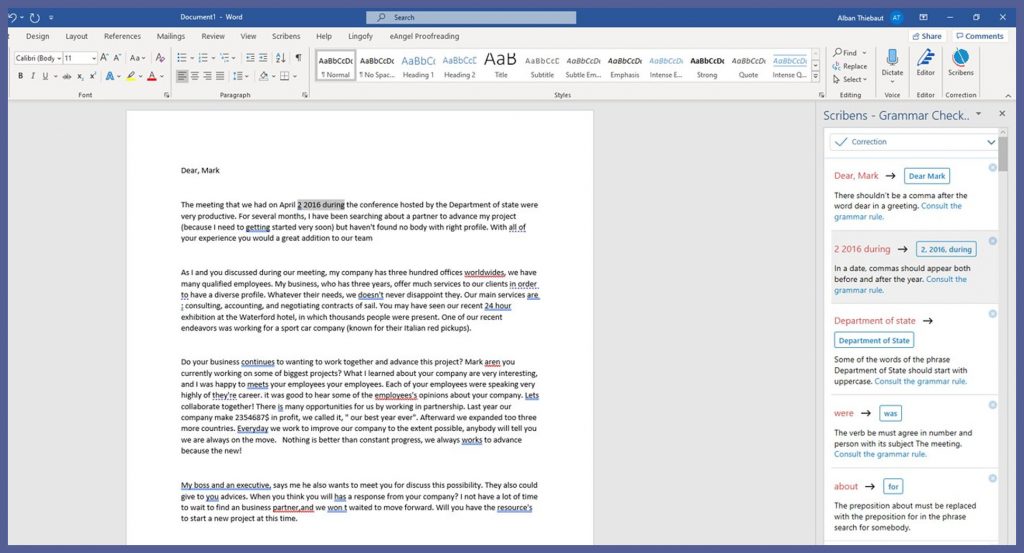 Scribens is an obscure grammar checker that has no reviews on Microsoft's AppSource. At a glance, it boasts to correct 10x more errors than Word's built-in checker. It includes explanations so that the writer can learn why Scribens is offering a correction. But there are a few things it doesn't include (and some that it does) that turn us off this particular add-on.
Pros:
Corrects Over 250 Common Grammar And Spelling Mistakes
Scribens promises to correct an impressive number – 250+ – of grammar and spelling mistakes. For basic editing, then, this software seems to do the job.
If you ever want to know why a sentence you wrote was grammatically incorrect, Scribens helpfully provides you with an explanation in the hopes that you will learn not to repeat your mistake in the future.
Cons:
Free Version Limited To 1 Million Characters
The free version of Scribens is limited to 1 million characters. At some point, you must either upgrade to a paid subscription or find a different free grammar checker.
One thing that Scribens fails to mention is that the free version displays ads. We only know they do because one of the features for the Premium version is that it's "ad-free." Nothing is more irritating that being inundated with ads when you're trying to write and correct a document quickly. This con alone is a big no-no.
4. ProWritingAid For Word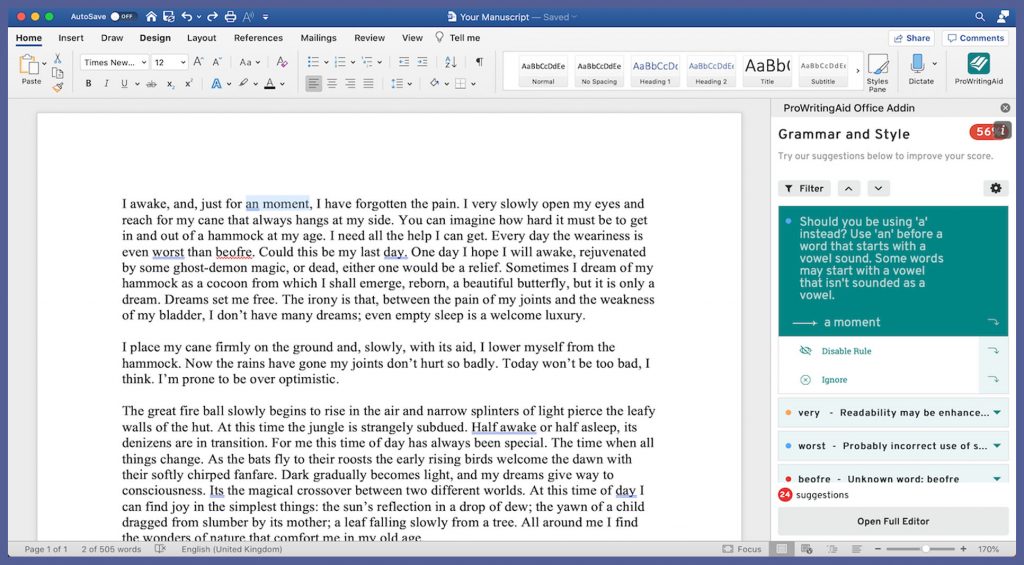 ProWritingAid for Word purports to provide thousands of "grammar, spelling, and readability improvements." It's certainly a robust grammar checker; it offers 20 in-depth writing reports to help you improve all aspects of your text, including style, cliché, and plagiarism.
But all these features come at a steep price.
Learn how to install ProWritingAid on a Mac here.
Pros:
Effective With Proper Nouns
If you struggle with proper nouns, then ProWritingAid is an excellent choice for a grammar checker. It is extremely effective at pointing out errors with proper nouns.
Integrates With Scrivener
People who write books in Scrivener can get a lot of mileage out of ProWritingAid. This software integrates with Scrivener seamlessly, allowing authors to produce professional and sellable drafts.
Recently Compatible With Mac
Mac users can now install ProWritingAid for Word on their computers. ProWritingAid recently began supporting Mac iOS in 2020.
Cons:
Free Version Only Runs Up To 500 Words Of Your Text
Here's where ProWritingAid loses some of its steam. The free version is only a 14-day trial, and it only runs up to 500 words of your text. In other words, if you want to make the most out of using ProWritingAid, you must pay for a subscription.
5. Linguix For Word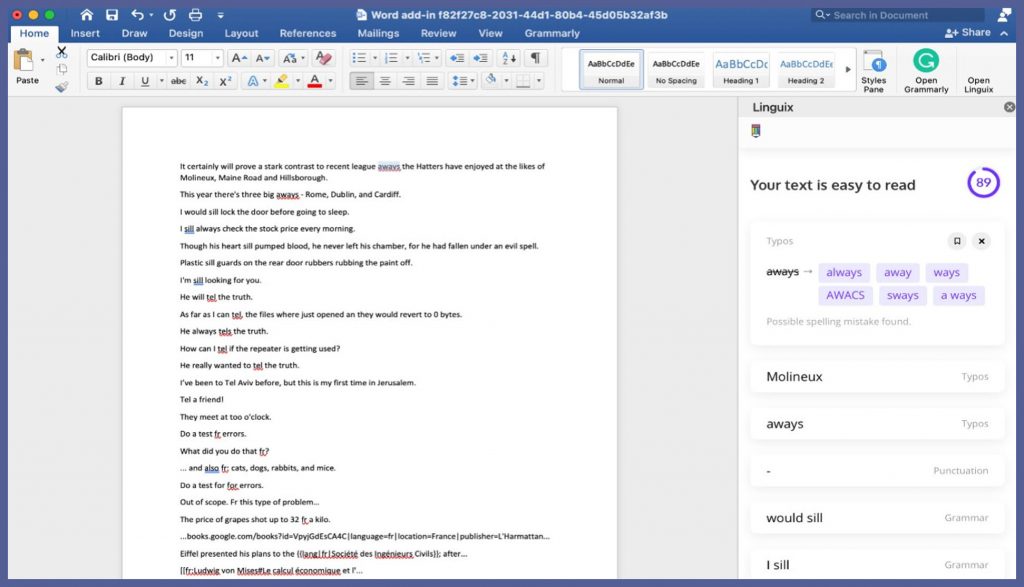 Linguix for Word promises to deliver context-based corrections for grammar, spelling, and punctuation. The paid version offers more corrections than the free one, but that's normal for a grammar checker.
What's not normal is the 2.5-star rating Linguix holds on AppSource. With great basic features, what makes Linguix a poor choice of grammar checker for Microsoft Word? We go over the pros and cons below.
Pros:
Corrects Errors Instantly
You won't have to wait around for Linguix to provide corrections for your text. Corrections appear instantly as you're writing.
AI-Based Instead Of Rule-Based
Linguix for Word is AI-based instead of rule-based. This means it can analyze your text for context clues and provide the most appropriate corrections based on what you're writing, not its own algorithm.
Cons:
The reason Linguix for Word has a low rating on AppSource is because it's difficult to install. Reviewers report having a tough time even loading this add-on into Word, much less using it. That's a big turn-off.
6. Grammarly For Word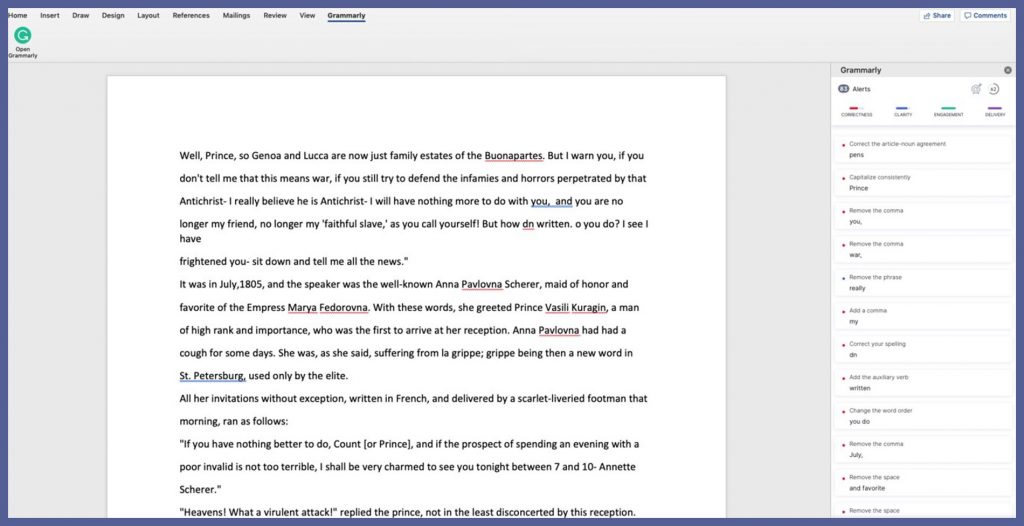 In theory, Grammarly for Word is an excellent editing tool for writers. It offers real-time grammar and spelling corrections powered by AI, and helps you appear more confident and professional on the page.
In practice, however, the Grammarly add-on for Word is simply not functional. We'll explain why below.
Pros:
Impressive AI-powered Grammar And Spell Checker
No one can fault Grammarly's grammar and spellchecking capabilities. It's a fantastic program that has help millions of people write clear, high-quality text.
Cons:
Doesn't Work For Mac Users
Grammarly for Word has a 2.4-star rating in AppSource. The reason for this is that it simply does not work on Mac computers. Mac users report trying to use this add-on for their Microsoft Word program with no success. That's a huge handicap, considering a lot of individuals and businesses use Mac computers daily.
7. Language Tool For Word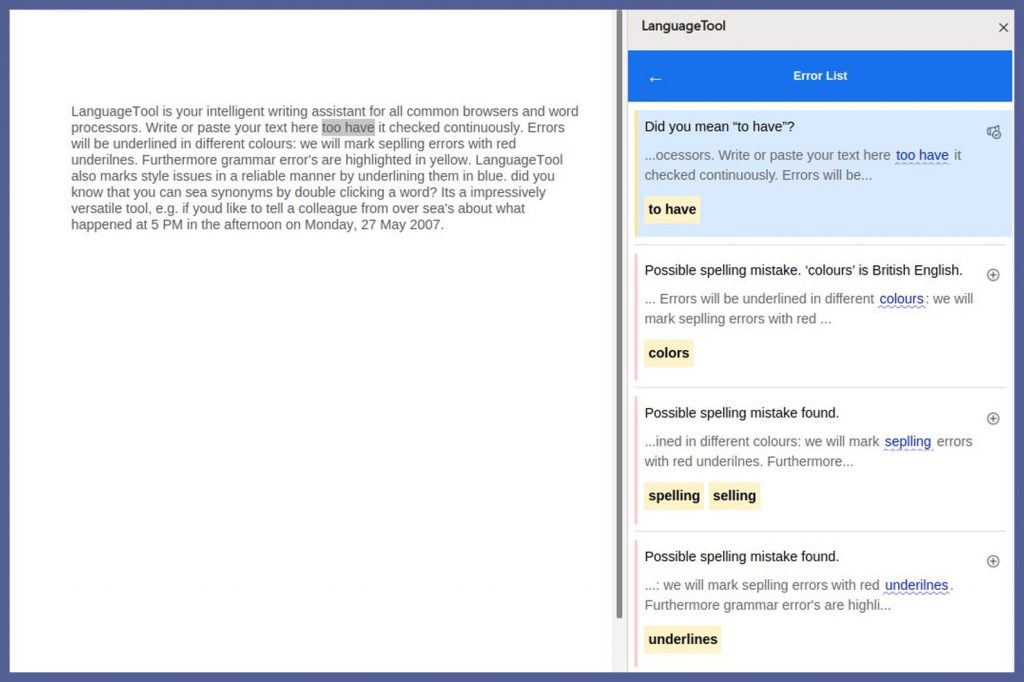 Language Tool's Microsoft Word grammar checker will fulfill your basic needs for checking spelling and grammar in your documents. But it's also large and unwieldy and doesn't check for context clues. Ultimately, Language Tool doesn't offer any unique features that you couldn't find in another grammar checker for MS Word.
Pros:
Business owners who employ multilingual individuals will enjoy the fact that Language Tool supports 25 different languages.
Cons:
Grammar Checker Is Rule-based
Language Tool's grammar checker is rule-based, so its corrections are not as intuitive or accurate as some of the other options on our list.
Comes With A Pretty Big Install Base
The install base for Language Tool is large, particularly for a grammar and spellchecking tool. If you have limited space on your hard drive, this could be a significant problem.
Verdict: Sapling Is The Best Grammar Checker For Microsoft Word
Overall, Sapling's free grammar checker for MS Word is the best option for individuals and businesses alike. It's fast, analyzes context clues to provide the most appropriate corrections, and offers suggestions for grammar, spelling, punctuation, and more. No matter what type of writer you are – great, fair, or not so good – Sapling will help you write a document that is clean, professional, and readable. If you're ready to give Sapling for Microsoft Word a try, you can download the free version here!