The heroes of customer support are dealing with more challenges now than ever before. To be on top of the game, besides everyday multitasking, these people need to be fast. As fast as possible, since quick first response time is what keeps customers happy. And without them, you don't have a business. That's why being able to reduce your first response time or average handle time is an extremely important task as a customer support leader.
Seeing that speed is the foundation of good customer service, you should do your best to reduce your support team's first response time. After all, this is how you stand out from the rest of the crowd. To do that, you need all hands on deck, of course. But no less important, you need an AI messaging assistant. So before we introduce you to the best grammar tools available to reduce first response time, let's clarify why speed matters so much in customer support.
A fast response time is how you get loyal customers
The simple truth is, a fast first response time makes your customers feel valued. Quite frankly, they not only expect it but demand it. And that is not mere observation but experimentally validated. COM council published a customer experience study showing that fast first response time is essential for good customer service.
These are the most critical elements of customer experience:

What is first response time?
First response time, or first reply time (FRT), is the time passed between a customer sending a ticket and getting a response from a customer agent. That said, companies typically measure the average first response time in business hours.
As stated above, a speedy reply goes hand-in-hand with customer satisfaction and loyalty. After all, your quick response shows them you're here for them, looking for a solution to their issue.
So, it's time to face the music. Do you know your average First response time? If not, it's time to calculate your FRT.
You can do that by dividing the sum of all first responses by the number of resolved issues, excluding automated responses and tickets gotten outside your business hours.
Additionally, you could filter tickets by agent, team, or time zone to analyze where you can improve.
Problems support teams face
Simply put, a typical customer support team faces an overload of inbound requests and inquiries. As a result, these humans work under a tremendous amount of pressure. At the same time, they will handle phone calls and multiple chats, working on ever-changing sets of issues. All the while knowing the clock is ticking, measuring their time.
McKinsey's research has shown that with brick-and-mortar stores closing worldwide because of the pandemic, e-commerce exploded. As a result, the heavy load on customer support backs got even more significant.
Messaging channels are gaining popularity, with messenger-based support being the second popular customer support channel.
The pandemic is causing an influx of complex support inquires, making agents feel overwhelmed and emotionally drained.
Limited team bandwidth, resources, and budget certainly make things even more difficult.
Customers are on their devices 24/7, expecting fast and quality chat responses.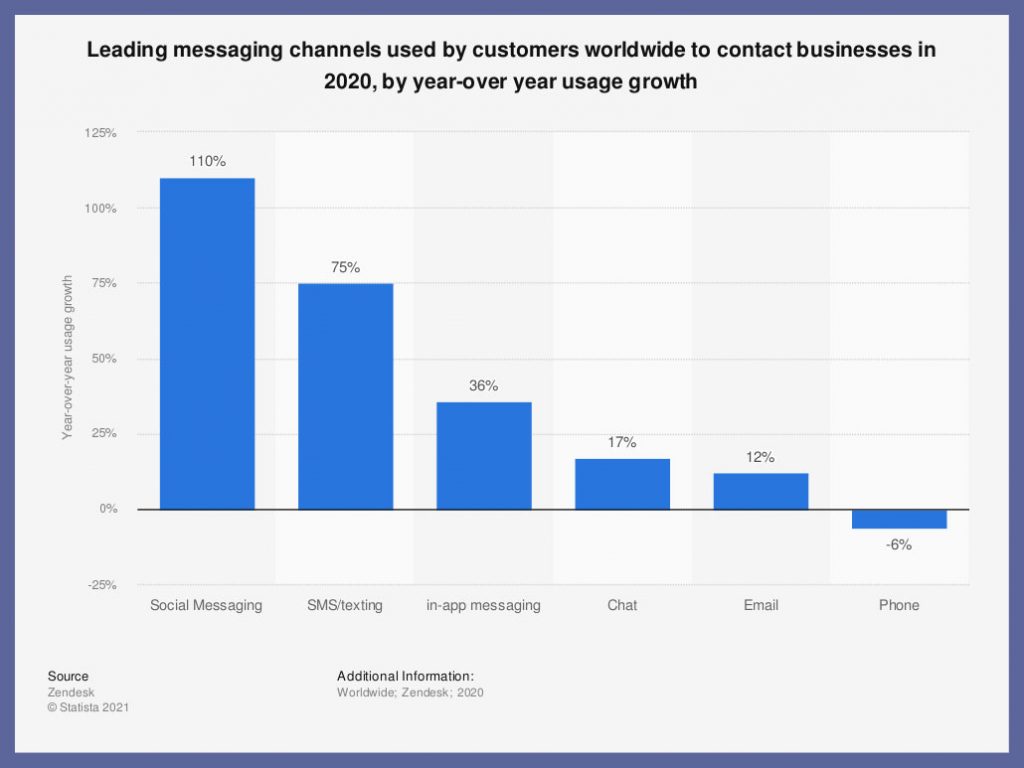 Be that as it may, excellent customer service is simply critical for a successful business. That's why you cannot avoid dealing with common support team issues anymore. After all, they are what affects your first response time the most.
How TaskUs reduced their first response time by 35% using Sapling's tools
Partnered with Sapling, the tech-enabled BPO company has been able to make incredible progress regarding customer experience. Using the same toolset across various platforms and channels, they optimized the retrieval of standard responses. Moreover, by exploring Sapling's AI technologies, TaskUs improved customer support efficiency without trading off quality.
TaskUs used several of Sapling's tools across platforms such as Salesforce Service Cloud, Zendesk, and Service Now.
Take a look at these fantastic results over the pilot campaign using Sapling's tools:
Reduce first response time by 35%
Reduce average handle time by 10%
8% increase in customer satisfaction score (CSAT)
100% of agents recommended the product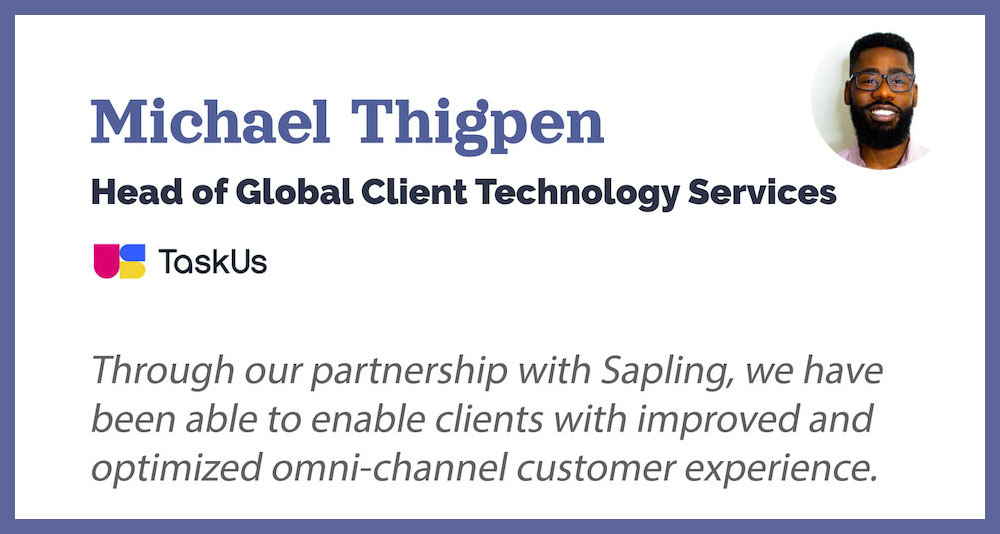 Sapling's tools work to assist agents without distracting their workflow. If you're interested in more details and numbers, you can check out the case study here.
Sapling's 5 tools to reduce first response time
Typing can get tedious, especially when you're repeating yourself over and over again. Not only that, it can put a severe strain on your team, especially if agents also have to proofread the ocean of messages sent.
Simply put, Sapling is an AI messaging assistant designed to face the most challenging issues affecting your first response time. Using one of the tools listed below, you will be able to cut your FRT in half. That means responding twice as fast!
With Sapling's tools, your customer service will respond quickly, correctly, and with a dash of personality. Additionally, you will gain conversational insights. That way, you can coach and prepare your support teams to stand out from the competition.
Keep in mind that every one of the tools listed below will help reduce your FRT. Moreover, you can use it anywhere, immediately. For example, Sapling works with two-click onboarding and almost no ramp time, so that you can streamline your team's chats from the very beginning.
1. Grammar checker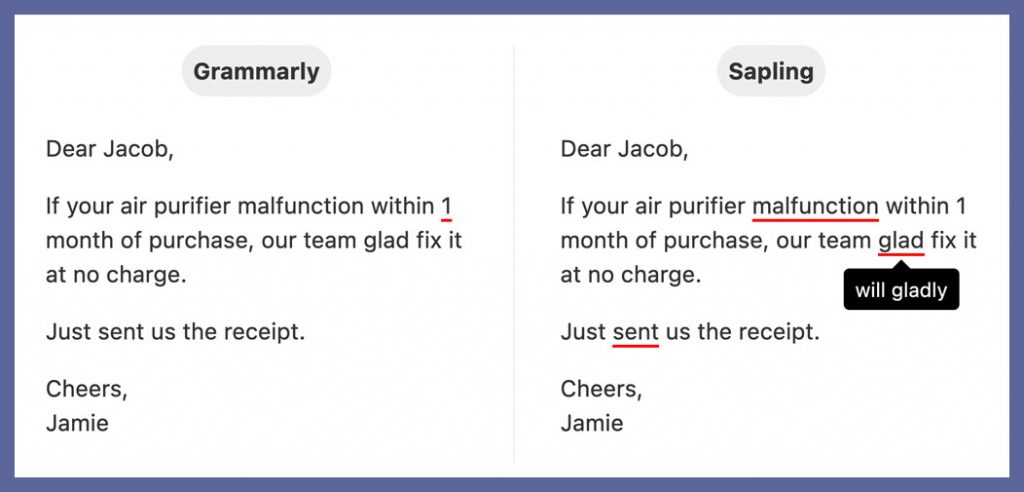 The truth is, grammar is an issue for many. Even those with excellent grammar knowledge make errors when typing quickly. And since fast is a must, you want to help your team compose messages more quickly.
Proofreading takes time, so you'll want a tool that can process text inline. Sapling has got just that. In addition, our grammar check will make sure you don't make any errors. As a matter of fact, Sapling catches 60 percent more errors than competitors.
It's truly a game-changer because it uses context to go beyond correctness. In other words, Sapling can help your support team shoot messages with utter confidence.
Most significant benefits of using grammar check:
Saves your support team time composing messages.
Makes your support team confident.
Uses context to go beyond correctness.
2. Autocomplete everywhere
For customer support teams, repeatedly typing identical phrases is one of the most irritating parts of the job. Not only does it take precious time, but it can also cause physical strain. Carpal tunnel syndrome, anyone? We didn't think so.
Fortunately for you, we created an autocomplete solution that saves tons of time when composing messages. In addition, Sapling provides deep learning-powered autocomplete suggestions across various CRM and messaging platforms.
Our autocomplete uses machine learning, so Sapling predicts the next one when your agent types in the phrase. This way, agents can simply tab-complete messages and respond to customers instantly.
Additionally, Sapling will help improve the consistency of messages you're sending across the team by providing frequently used phrases.
Most significant benefits of using autocomplete:
Saves precious time and energy typing.
Provides the same experience everywhere.
Helps with the consistency of messages.
3. Snippets

If you genuinely want to take things further to lower your first response time, Sapling's snippets are the tool for you.
At times, your team will want to use canned messages. However, switching between windows in search of appropriate messages in a spreadsheet takes too much time and energy. That's where snippets come in.
With this fantastic tool, you can search for snippets inline, so you will never type out the same responses again. In addition, Snippets allows you to search through your response portfolio and use shortcut expansions (macros) in every communication. Moreover, you can expand frequently-used snippets with short keystroke sequences.
Not to be sound too dramatic, but this tool is vital when it comes to fast response time. Not only does it allow searching across your support team's vast knowledge base and templates, but it's blazingly fast. In addition, you can use Snippets on any webpage, searching by a prefix, tags, or even a fuzzy match.
Most significant benefits of using snippets:
Saves a lot of first response time
Provides fast search for macros everywhere.
Enables macros in every communication channel.
4. Chat Suggest
Suggest takes Snippets a step further. Sapling created Suggest tool to help your team support chat as fast as possible. After all, people hate waiting for chat replies. Instead, they demand speedy responses. What if you could somehow automatically pull out relevant snippets? That genius trick would save you loads of time.
Well, it turns out it is possible. Sapling's Suggest solution recommends live chat responses across various support and sales platforms. Consequently, this leads to faster resolutions and greater customer satisfaction.
Suggest provides two main benefits:
It boosts efficiency by enabling agents to respond to tickets by swift clicking on the desired responses
It gives the most relevant answers by using machine learning for language understanding.
With this in mind, it's clear how customer service agents influence customer experience and satisfaction. So, why not empower your support team with this helpful tool?
Not only will they be able to give out faster, more appropriate replies. Sapling's chat assist will help them find the most relevant suggestions from the knowledge base. Additionally, you will be able to track usage by the response and by an agent.
5. Dashboard with coaching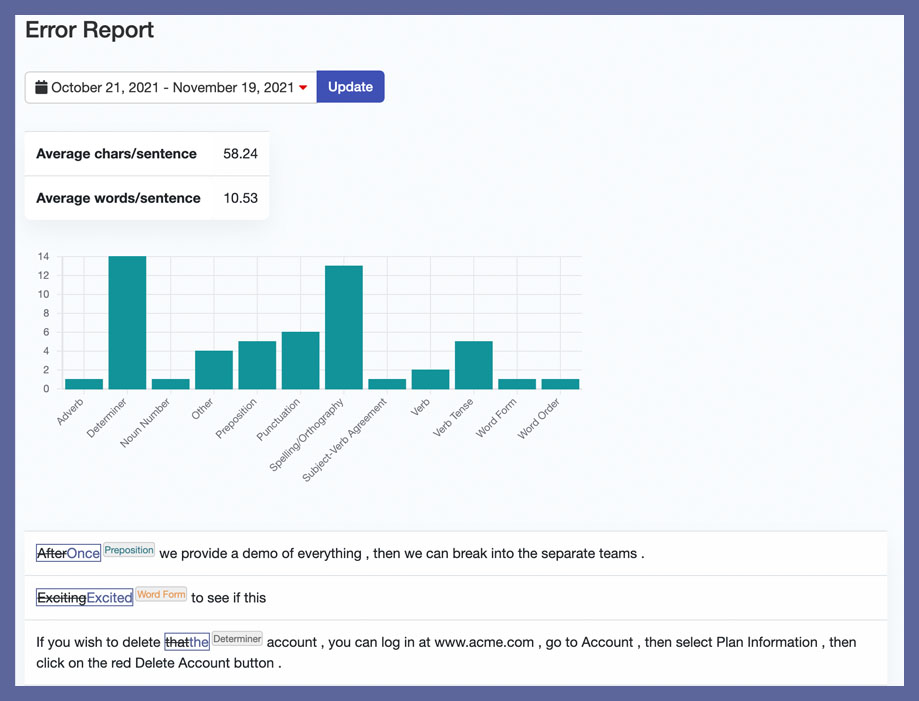 Once you have all the tools helping you reduce first response time, it's wise to measure the improvements. Sapling's user-friendly dashboard enables you to track usage and progress. In essence, it shows you how much time you saved and how many snippets you used.
Why are these insights so important? Well, what gets measured, gets managed. That is why you need to analyze your customer support communication to be able to improve it.
Using Sapling's dashboard, you can stay on-point with your customer-facing conversations. You can easily observe all chats, emails, and tickets and implement Sapling's assistant for real-time messaging solutions.
To be the best, you should always work to improve. With Sapling, you can check and quality score every single message. Once you do that, it's way easier to get valuable insights to share with your team.
Dashboard with coaching includes these fantastic benefits:
Usage analytics by team, individual, and time.
Error reporting.
Quality scoring of messages.
Reporting and analytics are paramount for a successful customer support enterprise, and not only to prevent errors. Good analytics will help you stay on top of customer experience trends, which we all know are ever-changing.
The bottom line
Trends will change; that is a given. But, the need for a fast first response time probably will not. So, if you want to stay on top of the customer experience game, you must find a way to be there for people. With Sapling, you can. It doesn't matter whether you're in sales, logistics, or gaming support; Sapling will work to streamline your team's chats from the very first day of deployment.
If you're ready to take your support team to the next level, click the button below to chat with an expert about Sapling's enterprise plans!
Talk with an expert