Google Docs, Slides, and the other productivity tools included in G-Suite are great for creating documents and presentations on the go. For one thing, they're free to use (if you sign up for a free Google account). For another, they automatically save your work to your Google Drive. Finally, you can access them wherever you have an internet connection. The one thing they're not that great at, though, is grammar checking. So that's why a good Google Doc grammar checker is a must have.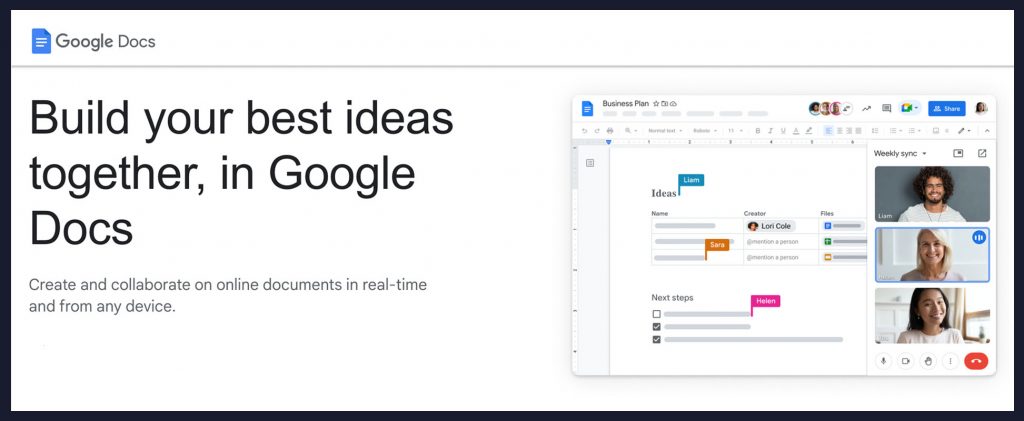 If you use Docs or Slides, you've probably noticed that their text editing tools are slim pickings. In fact, the best tool they have to offer is a spell checker.
A spell checker for G-Suite is all well and good. But unfortunately, when it comes to writing, most of us need a little more help than just a spell checker for Google Docs and a spell checker for Google Slides.
We need a grammar checker for Google Docs and a grammar checker for Google Slides. Heck, we need a grammar checker for G-Suite and all its programs.
Why do we need it? Because good grammar is the key to making a good impression.
When you're typing up a document or creating a slide presentation to share with other people, you don't want them to lose their confidence in you because you still can't master the difference between "your" and "you're."
You may not have been at the top of your class in English in high school or college. But you can (and should) still craft a grammatically correct document or presentation, with no spelling errors in sight. All you need is a grammar checker that is compatible with Google's productivity programs.
There are several programs and browser extensions on the market that claim to work with G-Suite. Below, we break down the top 6 grammar checkers Google Docs, list their pros and cons, and share our verdict for which one ranks higher than the rest.
1. Sapling Grammar Checker For Google Docs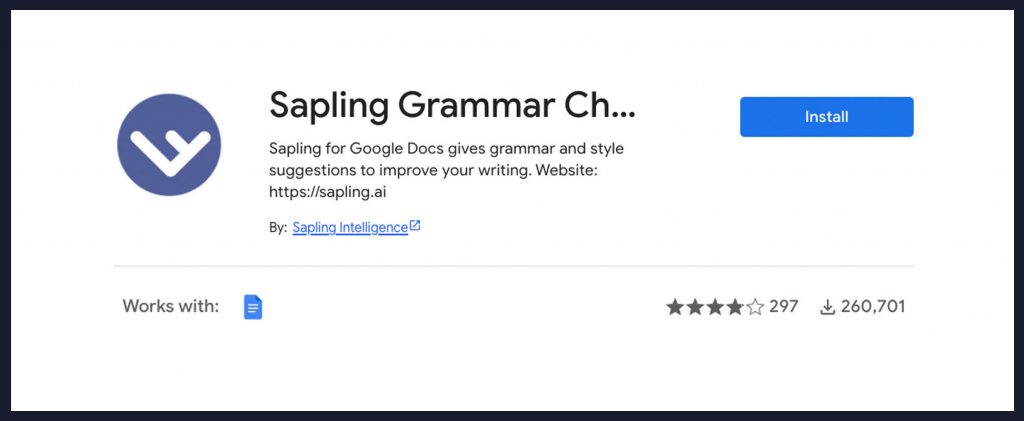 Yes, we're putting our own grammar and spell checker AI program at the top of this list. We couldn't resist because we truly believe Sapling stands on its own amid all the other offerings out there on the internet.
But enough of us praising ourselves. Let's get down to the real facts about why the Sapling AI extension is a fantastic grammar checker for Google Docs (and for the entire G-Suite, too).
Pros:
Available as a Google Docs add-on.
This means you don't have to operate it as a separate software. It integrates seamlessly with Google Docs as soon as you open the latter in your browser.
Runs a grammar and spelling check throughout the entire document.
This feature applies whether you're using the free or the paid version.
Uses neural nets trained on millions of sentences to process text.
This means that we designed Sapling to constantly learn, so it can make context-appropriate correction suggestions during your editing process.
Takes context into account.
Sometimes the proper term or traditional method of constructing a sentence is simply not applicable to the tone that you're writing in. Because Sapling doesn't rely on hardcoded rules, it adapts to the context of what you've written and suggests corrections accordingly.
Supports other languages.
Sapling is easy to use, even if English is not your first language. Our program supports several different languages from across the globe. Peruse our list of them here.
Sapling supports custom models of computers, from PCs to Macs and everything in between.
Sapling Business offers extra benefits that other companies can't compete with.
When you use Sapling, you not only gain access to our grammar and spell checker. You also reap the benefits from our Sapling Business program.
The biggest benefit is the privacy tools we offer, which include scrubbing personally identifiable information (PII) from your internet searches. We take SOC2, HIPAA, and PCI compliance extremely seriously, so regardless of what industry you work in, Sapling Business works for your data privacy.
Cons:
Free version does not come with as many grammar check features as the paid version.
For a completely thorough and comprehensive grammar check, you may consider subscribing to our paid version of Sapling. However, as we mentioned earlier, even the free version will check your entire document and suggest basic grammar and spelling corrections. Making Sapling a great option as a Google Doc grammar checker.
2. LanguageTool Grammar Checker For Google Docs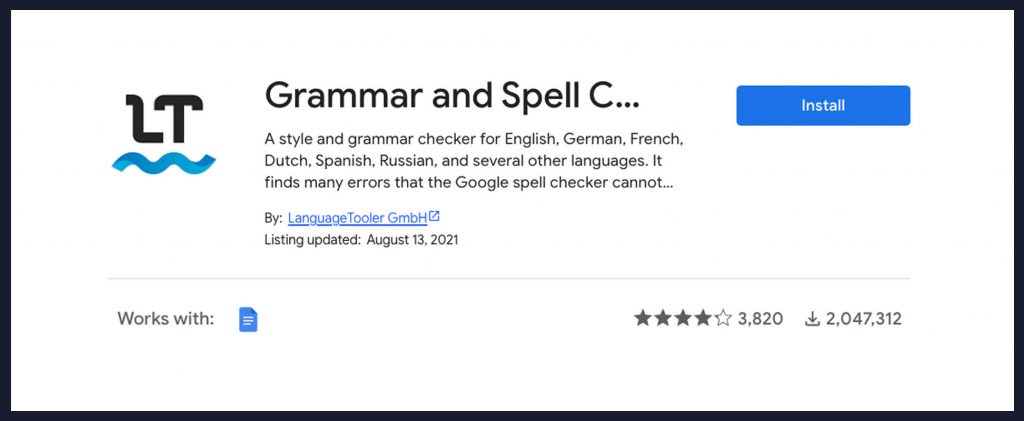 LanguageTool for Google Docs is basic, but it gets the job done. It's free, and it detects a wide range of spelling and grammar errors. Not only that, but it's also extremely well-reviewed compared to some of the other checkers on our list.
Pros:
Free to download and use.
LanguageTool makes an amazing asset for college students and other people looking to save money on their productivity software.
Has received over 3000 mostly positive reviews on Google Workspace.
LanguageTool has a 4.2 average rating from over 3000 reviews on Google Workspace. That's a huge vote of confidence from everyday Docs users.
Supports 25 different languages.
The fact that LanguageTool supports 25 different languages is extremely impressive on its own. But the best part about this feature is it makes grammar and spell checking available to Docs users worldwide.
Cons:
Grammar and spell checker is rule based.
"Rule-based" indicates that this grammar checker only checks for errors against its own database of knowledge. It does not recognize more advanced contextual clues.
Will not perform grammar or spell check on documents containing over 20,000 words.
LanguageTool's other big handicap is that it can't handle a single document containing over 20,000 words. If you are a prolific writer or author, this limitation may be a huge issue.
3. ProWritingAid Grammar Checker For Google Docs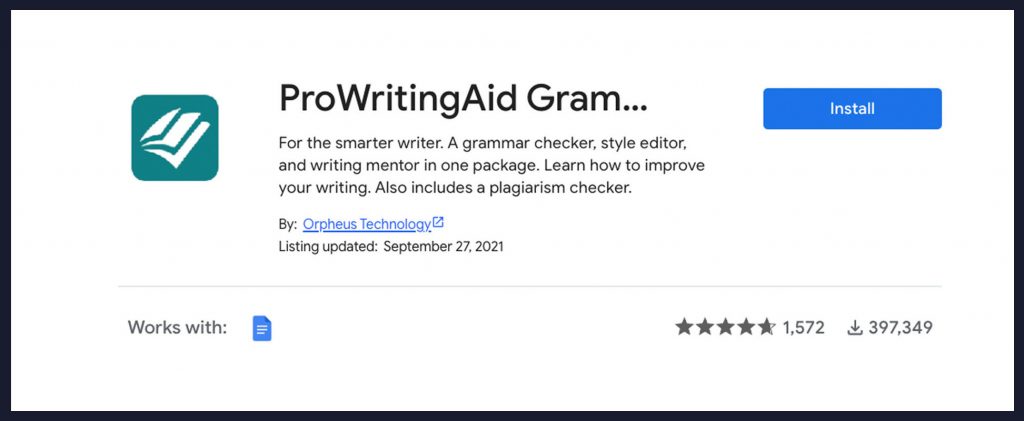 ProWritingAid looks great on paper. It performs comprehensive proofreading and editing functions, is particularly good at detecting and correcting proper nouns, and it promises to "improve the clarity and power of your words."
But there's one big catch, which we'll go over in the Cons section below.
Pros:
Checks for spelling, grammar, and punctuation.
ProWritingAid gets full marks as an all-around grammar and spell checker. It even doublechecks your punctuation. It will always make sure you know when you should use a hyphen or a semi-colon.
Corrects advanced issues.
ProWritingAid also scans your document for advanced issues, such as redundancy, plagiarism (a terrific addition for businesses and college students), and complex wording.
Cons:
Free version only checks up to 500 words of your document.
The most disappointing downside to ProWritingAid is the free version only checks the first 500 words of your document. So, before you can make any headway on your long-form presentation, report, article, etc., you must sign up for their 14-day free trial and afterwards, begin paying a monthly subscription. For those looking for a low cost Google Doc grammar checker and Google Slides grammar checker, that paywall may be too high.
4. Scribens Grammar Checker For Google Docs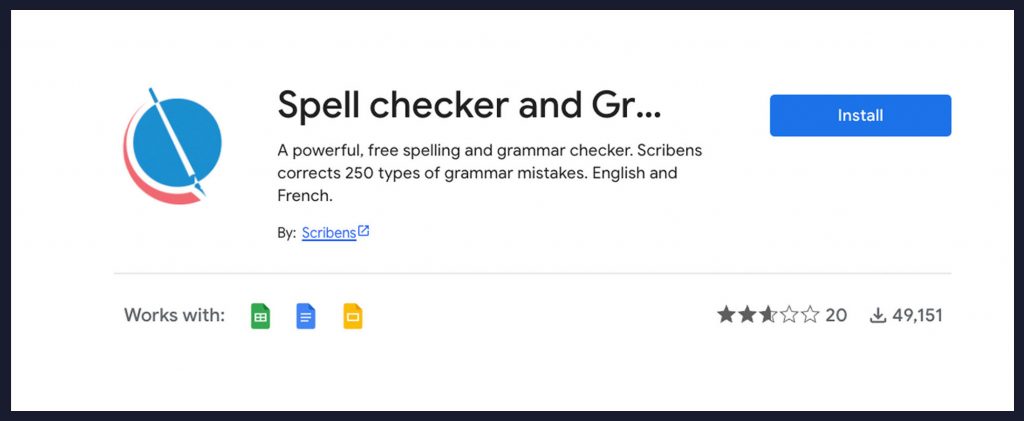 Scribens seems like it would be a good Google Docs grammar checker and Google Slides grammar checker. It sets high limits on the number of characters it will check for free in a document, presentation, or spreadsheet. It also promises to perform the basic function of checking for spelling errors.
Pros:
Checks grammar and spelling errors for free with a high character limit.
With the free version of Scribens, you can check up to 1 million characters in Google Docs, 50,000 characters in Google Slides, and 50,000 characters in Google Sheets.
Cons:
Rated only 2.7 stars out of 5 on Google Workspace.
Scribens holds an abysmal average rating of 2.7 out of 5 stars on Google Workspace. That fact that over 48,000 people to date have downloaded and rated this program speaks volumes. Clearly, this grammar checker for G-Suite does not do its job.
Supports only two languages.
Compared to Sapling and LanguageTool and the high number of languages they support, Scribens with its two languages – French and English – is poor competition as a Google Doc grammar checker.
5. Antidote Grammar Checker For Google Docs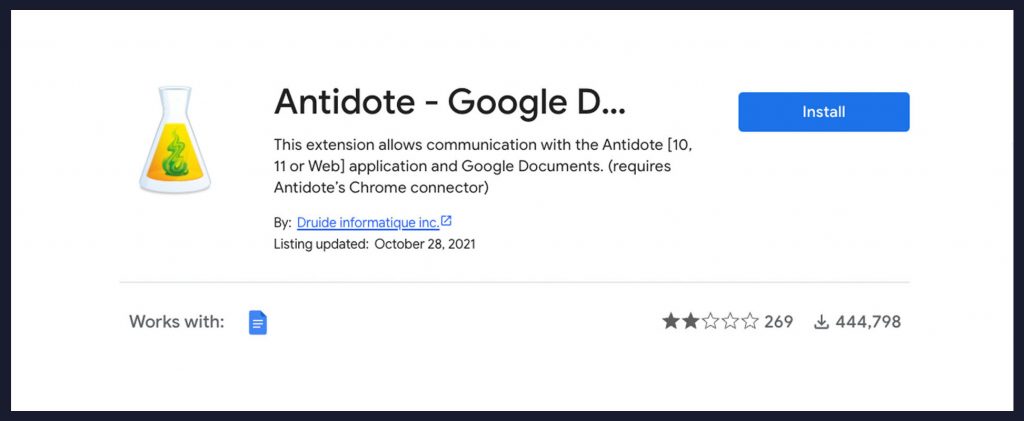 Antidote seems to have the cure for what ails your Google Doc: spelling and grammar errors. But in real life, it sadly falls short of the mark on every feature.
Pros:
Is downloadable as a separate word processing program.
While Antidote is not much of an antidote for Google Docs, it may be more effective in its own application, which you can download on your desktop or your mobile device.
Cons:
Rated only 1.9 stars out of 5 on Google Workspace.
Antidote's rating on Google Workspace is even lower than Scribens: 1.9 out of 5 stars. User reviews complain that the add-on simply does not work: its buttons don't even respond to clicks.
Grammar and spell checker is rule-based.
Once again, we come across a grammar checker for Google Docs which is rule-based. You will not receive suggestions based on the context of your original content. Instead, you will have to hope that what you've written is grammatically correct in the context of the tone and subject matter.
Only supports English and French.
Google Docs users whose language of choice is not English, or French should look elsewhere for a spell checker.
6. Grammarly Grammar Checker For Google Docs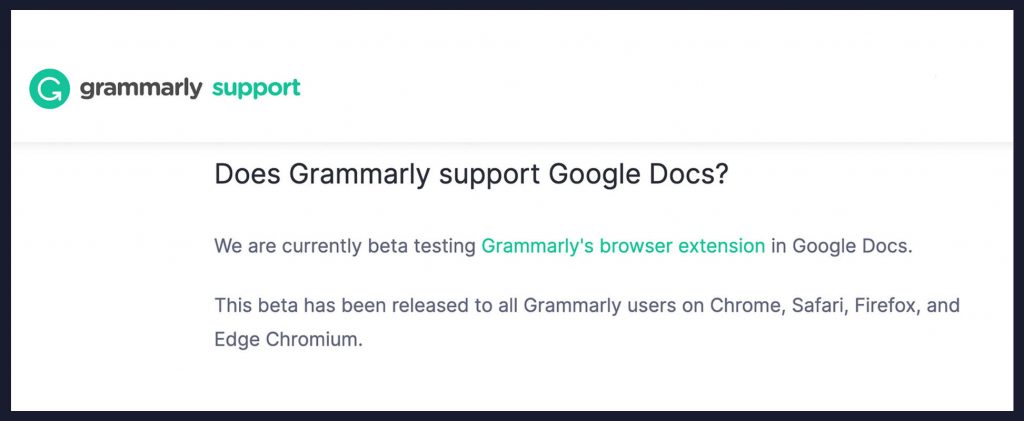 Grammarly is a top-tier grammar checker. It's well-reviewed as a browser extension, and it's helped thousands of business professionals compose articulate, well-thought-out documents and presentations.
According to Grammarly's website, they are currently beta testing their browser extension in Google Docs.
Grammarly is familiar to most folks, so we won't go into too much detail here.
Pros:
Available through browser extension.
When using Grammarly, you can simply install the extension you use for other websites, and it should support Google Docs.
You'll be able to use their tool without paying for a subscription, even for longer documents.
Cons:
Their tool is currently in beta.
This means that you may encounter bugs and other stability issues.
Does not support Google Slides.
If you need a Google Slides grammar checker, unfortunately Grammarly for Google Slides is not currently supported.
Verdict: Sapling Is The Best Grammar And Spell Checker For Google Docs
Against its five competitors, Sapling stacks up pretty darn well as a Google Doc grammar checker and Google Slides grammar checker. We're not just biased; in this case, we believe our grammar and spell checker's efficacy, quality, and efficiency is self-evident.
We don't put checking your entire document for grammar and spelling errors behind a paywall. We also don't force the people who use our add-on to struggle to click buttons or pay subscription fees unless they choose to. Sapling works for you instead of against you. If you're also looking for a great grammar checker for Outlook, here's our 6 best grammar checkers for Outlook list.
Try Sapling for yourself and see how seamlessly it integrates into your daily use of G-Suite. Download our Docs add-on here, and our add-on for Slides here.